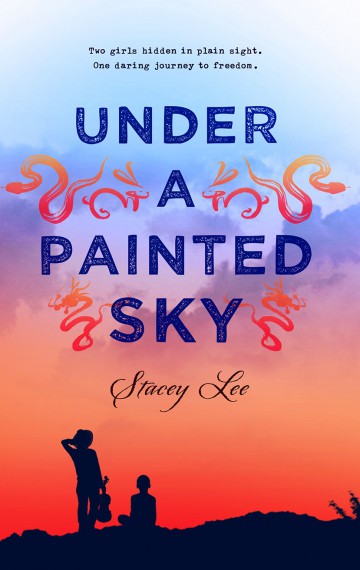 Publisher:

G.P. Putnam's Sons Books for Young Readers

ISBN:

0399168036

Published:

March 17, 2015
Goodreads
Synopsis
From Goodreads:
Missouri, 1849: Samantha dreams of moving back to New York to be a professional musician—not an easy thing if you're a girl, and harder still if you're Chinese. But a tragic accident dashes any hopes of fulfilling her dream, and instead, leaves her fearing for her life. With the help of a runaway slave named Annamae, Samantha flees town for the unknown frontier. But life on the Oregon Trail is unsafe for two girls, so they disguise themselves as Sammy and Andy, two boys headed for the California gold rush. Sammy and Andy forge a powerful bond as they each search for a link to their past, and struggle to avoid any unwanted attention. But when they cross paths with a band of cowboys, the light-hearted troupe turn out to be unexpected allies. With the law closing in on them and new setbacks coming each day, the girls quickly learn that there are not many places to hide on the open trail.
What I Liked
I love that this is a historical fiction story about a Chinese-American girl and an escaped slave girl making their way to California in 1849.  Any historical fiction from a marginalized perspective is valuable, and particularly Gold Rush stories: the American West at that time was so, so diverse, and it's easy for that to be a footnote in teaching that time period.  Sammy and Annamae are resourceful teenagers who find themselves in over their heads, and I enjoyed seeing them solve their problems as their friendship grew stronger.  There is a lot of action in this book, and Sammy and Annamae often feel in real danger–the book doesn't shy away from how being Asian and black women informs their experiences and fears on their journey to California.
There is, of course, some romance, which I kind of didn't have patience for.  The ending mostly serves to wrap up the romances, and that felt really cheap to me, especially given the story starts with the two girls escaping a man.  Given the story's confrontation of racism and sexism, the ending felt very hand-waving about the interracial relationship at the end of the story, and there's a definite sense of "everyone's happy now, the end!!!!" when in fact Sammy and Annamae still have quite a bit to face.  Not that interracial relationships didn't exist at that time–they did, and it's important they're represented.  But the approach felt jarring and unrealistic after the realism throughout the rest of the story.
I also had a hard time connecting with the characters and getting into the story–hence the low rating.   It's not badly written, though.
Classroom Connections
This is kind of a strange book, in that it seems to be middle grade, but it addresses rape and murder very directly.  (Not in a graphic way, and nobody is raped, but there's an attempt, and the book uses the word.)  That makes it tough to use for 4th grade, when otherwise it would be perfect, given the 4th grade Social Studies curriculum in CA is California history.  But the book reads a little young for 8th grade, otherwise.  That said, I think an 8th grade class studying this era in US history would get a lot out of exploring this book together, and could end the unit with a historical fiction project.  Looking at how to deal with the harsh realities of the California Gold Rush in a middle grade historical fiction could be a really cool project, and the students could write their own novels or short stories, explaining how they decided to handle tough subject matter.  This could even be a really interesting way to use the book in high school, in an ELA or Social Studies class.
Accelerated Reader
Quiz: 177943
Level: 4.9
Points: 13
Again, this book does address rape, so don't blindly give it to 4th graders!  Middle school aged should be fine, but as always, use your judgement.