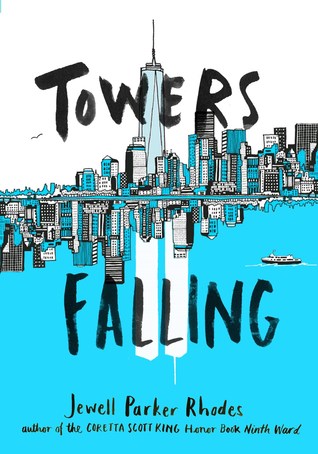 Publisher:

Little, Brown BFYR

Edition:

ARC

ISBN:

0316262226

Published:

July 12, 2016
GoodReads
This review is of an ARC of the novel I received from NetGalley.
I was a senior in high school when the Twin Towers fell. Since then, I've worked with high schoolers who were in elementary school when it happened, and middle schoolers who were born in the early 2000s. My current sixth graders were born after the Iraq War started. I have to remind myself how distant 9/11 is to them. To me, it feels immediate, like it was a handful of years ago. I debated for a high school in the Boston area: there were students at my school who had parents on one of the planes, and I debated against New Yorkers every weekend. It was surreal to hear that one of the main debate schools in the city had been turned into an emergency center of sorts; that kids and teachers at that school could see the towers fall from their windows. I remember how each of my teachers handled class that day, what the first tournament of the year felt like a few weeks later.
Synopsis
There's a real gap between students, who usually are never formally taught about 9/11, and the adults in their lives who were old enough to not just remember, but to know what was going on as it happened. Towers Falling nicely fills that gap through the eyes of three 10 year olds who are learning about 9/11 in school. The story centers on Déja, whose family has just moved to a homeless shelter in Brooklyn. As she and the students in her new school start a unit on 9/11, Déja and her friends slowly realize what actually happened–and Déja learns that the events of 9/11 directly touched her family.
What I Liked
A book about fifth graders learning about 9/11 in school, as a concept, feels a little contrived to me, and I definitely felt that Towers Falling was written specifically for that purpose. While I would prefer a book about 9/11 that was a little more organic, this book does what it sets out to do extremely well. Déja and her friends explore and discuss 9/11 the way fifth graders actually would. When they watch a video of what happened, it was a little tough to read the progression of their reactions, and the description of their visit to the memorial was really poignant. The book also deals well with the generational gap between the students and their teachers and parents. There's Déja's homeroom teacher, who was in fifth grade herself when the towers fell, and Déja's father, who was a doorman in one of the buildings and still suffers from breathing in the dust. Through those characters, the book explores the idea of how to tell elementary-aged children about those kinds of events, and even if students in elementary school should know about them in the first place. I really appreciated how the book brings students into that conversation, since it's usually one that adults have amongst themselves. Having Déja's teacher be in fifth grade herself on 9/11 is a great choice, since at that time, she was in the position of her students.
What kept this book from feeling as though its only value is its premise is the characters. Déja and her friends are the ones we really get to know, and each of them is fully complex. Déja's homelessness informs much of her perspective, especially since she starts a new school at the beginning of the book–her embarrassment and wonder as she discovers how much about New York she doesn't know, despite the fact she's lived in Brooklyn her whole life, is powerful. It's also a smart way to center a book for students, since there are bound to be students reading the book who don't know a lot of what Déja doesn't know.
Classroom Connections
I would firmly put it in a 4th-5th grade category, both in terms of decoding and content. I think it would be good in a 6th grade classroom library, but with lower grades, I would love to create a curriculum around it, or at least use it as a read-aloud with some class discussion. Using this book with the US History 5th grade curriculum could generate some great discussions about immigration, what it means to be American, and the impact of tragedy on American history. Students could research and put together their own recommendations for how to talk to younger children about serious events. Students can also talk about agency and character, and how each of the characters in the book needed to feel some kind of agency regarding 9/11 and who gets to know about it, and when.
Accelerated Reader
It's way too early for there to be an AR quiz for this book, but I would guess it to be around 4th grade level.