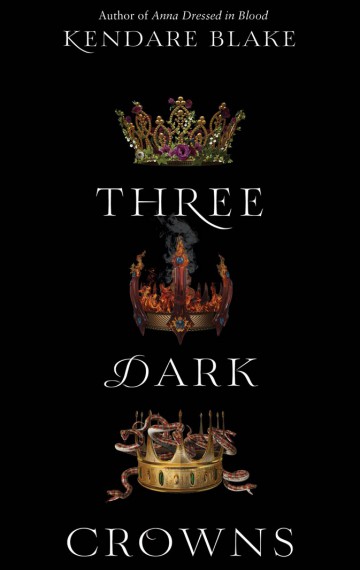 Publisher:

HarperTeen

ISBN:

0062385437

Published:

September 20, 2016
Goodreads
Synopsis
From Goodreads:
Every generation on the island of Fennbirn, a set of triplets is born: three queens, all equal heirs to the crown and each possessor of a coveted magic. Mirabella is a fierce elemental, able to spark hungry flames or vicious storms at the snap of her fingers. Katharine is a poisoner, one who can ingest the deadliest poisons without so much as a stomachache. Arsinoe, a naturalist, is said to have the ability to bloom the reddest rose and control the fiercest of lions.
But becoming the Queen Crowned isn't solely a matter of royal birth. Each sister has to fight for it. And it's not just a game of win or lose…it's life or death. The night the sisters turn sixteen, the battle begins. The last queen standing gets the crown.
If only it was that simple. Katharine is unable to tolerate the weakest poison, and Arsinoe, no matter how hard she tries, can't make even a weed grow. The two queens have been shamefully faking their powers, taking care to keep each other, the island, and their powerful sister Mirabella none the wiser. But with alliances being formed, betrayals taking shape, and ruthless revenge haunting the queens' every move, one thing is certain: the last queen standing might not be the strongest…but she may be the darkest.
What I Liked
The premise and world-building feels original to me–obviously, the fight to the death concept isn't a new one, but the idea of thee competing queens (who are sisters) is interesting.  I really like how their powers aren't obvious–I would have expected them each to have command over a different elemental power, for example.  Dividing up nature-type powers into elemental (weather-related) and naturalist (plants/animals-related) is an interesting take, and one I wouldn't have expected, and the poisoner power is a curveball for me.
There's a real uncertainty as to who to trust throughout the book, and the male characters in particular are irritating and suspicious. I really can't stand Joseph and hope there is some justice there, for example.  I felt pretty distant while reading it–maybe it's because the chapters cycle through perspectives from each queen's domain, or maybe because it's written in present tense, or something for some other reason I can't quite figure out.  Either way, I felt it was a pretty solid story until the very end, where there's a great twist that elevates the concept from a sibling rivalry/political manueverings/fight to the death story, to one that hints at some sort of conspiracy.  I wasn't really planning on reading the next book when it comes out, but once I got to that ending, I absolutely want to now.
Classroom Connections
Really interesting fantasy novel that deals a lot with family–you can approach it from the fantasy/hero tale angle, or from the family angle.
Accelerated Reader
No AR quiz–the book was published too recently.  There's nothing graphic, but it's clear that some of the characters are sleeping with each other–there's a plot point centered around that.  There is also some poison-related grossness, and of course, the premise of the book is that the three sisters have a year to try to kill each other.  The story is very readable, so it should be accessible to students with a range of reading levels.  I'm tagging it with 7th grade, because I think 7th/8th is a sweet spot for this story.