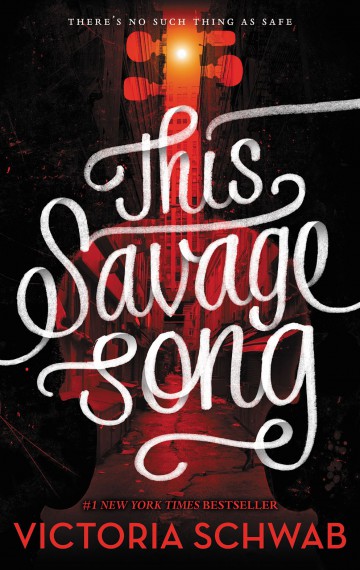 Publisher:

Greenwillow Books

ISBN:

0062380877

Published:

July 5, 2016
Goodreads
Synopsis
From Goodreads:
Kate Harker and August Flynn are the heirs to a divided city—a city where the violence has begun to breed actual monsters. All Kate wants is to be as ruthless as her father, who lets the monsters roam free and makes the humans pay for his protection. All August wants is to be human, as good-hearted as his own father, to play a bigger role in protecting the innocent—but he's one of the monsters. One who can steal a soul with a simple strain of music. When the chance arises to keep an eye on Kate, who's just been kicked out of her sixth boarding school and returned home, August jumps at it. But Kate discovers August's secret, and after a failed assassination attempt the pair must flee for their lives.
What I Liked
I straight up loved this book, right from the first line.  I was a little hesitant to read it, because the title, cover art, and description made me worry that it would be all angsty romance, but it's not that at all.  In fact, there is no romance at all, which is pretty amazing in a YA book with a female protagonist.  I think it's pretty important for teenagers, especially girls and especially younger teenagers, to read books about girls and young women that are romance-free.  It's dystopian fiction that's set in a future United States, but it's done in such an original way, with the incorporation of monsters and the mythos behind them.  The world-building is fantastic–I'm glad there's a sequel, because I want to spend much more time in this world.  I would honestly read a history of this world, that's how real and fascinating it feels.
In the hands of a lesser writer, Kate and August would be reduced to types–her, the closed off, angry rebel with daddy issues, and him, the angsty, sensitive musician. Instead, Schwab has created full people with complicated feelings and motivations, who challenge and compliment each other when they do end up working together.  Neither character is anybody's manic pixie dream anything; nobody is drawn to anybody by the pain in their beautiful eyes or whatever.  The central question in this book is not if Kate and August will end up together: it's if Kate and August will a.) do the right thing, and b.) even be able to figure out what the right thing is.
Classroom Connections
There's a lot to discuss with a class here.  This book would be great as part of a unit on dystopian American fiction, especially paired with The Hunger Games–there are clear similarities between the two books, but a lot of really interesting differences.  There's also a lot of comparison with Romeo and Juliet type stories, and Kate would fit right in on a unit on disaffected, alienated teens in literature (Catcher in the Rye, The Outsiders, etc).  I haven't explored this, but I wonder if the story fits the hero tale narrative–my feeling is that it might, but in an interesting way.
Accelerated Reader
The book is too new for an AR quiz, but Schwab's other books tend to range from 4.7 to around 6 in reading levels.  I would recommend this book to 5th graders who really like to be scared and love the later Harry Potter books and The Hunger Games.  I think middle school is great for this book–it's scary and deals with a lot of complicated issues, but is totally appropriate for an 11 year old.  A lot of middle schoolers would also relate to the tensions between August and Kate and their families, especially Kate's desperate need for her father to accept and validate her.  I'm tagging this book with 6th grade because it's probably around that reading level in terms of decoding, but I think it's meant to be YA, and older kids would definitely enjoy it.
This Savage Song
Pros
- complex, nuanced characters
- dystopian fiction with monsters!
- completely appropriate for middle school, yet has challenging ideas
- female protagonist and no romance!
Cons
- some of the action is a little hard to visualize
- might be too scary for upper elementary students