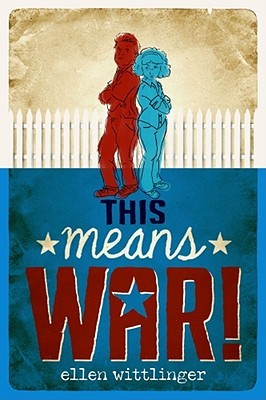 Publisher:

Simon Schuster Books for Young Readers

ISBN:

1416971017

Published:

April 20, 2010
Goodreads
Synopsis
From Goodreads:
October 1962. Juliet Klostermeyer's world is turning upside down. All she hears from her parents and teachers and on the news is the Russian threat and the Cuban Missile Crisis. And things aren't much better at home. Her best friend, Lowell, doesn't seem interested in being her friend anymore–he'd rather hang out with the new boys instead. When Patsy moves in, things are looking up. Patsy is fearless, and she challenges the neighborhood boys to see who's better, stronger faster: a war between the boys and the girls. All the talk of war makes Juliet uneasy. As the challenges become more and more dangerous, Juliet has to decide what she stands for–and what's worth fighting for.

What I Liked
I haven't read a lot of historical fiction, especially MG historical fiction, set against the Cuban Missile Crisis, and it was interesting to see that as a backdrop to the events of the book–the war between the girls and boys against the greater impending war between the US and Russia.  This is one of those middle grade books that looks at the transition between elementary and middle school, and the friendship conflicts that can arise due to it.  I liked how the characters saw that they were increasingly losing control of the competition between the girls and the boys, and how Patsy and Bruce were reflections of each other in a lot of ways.
I'm not crazy about the story–the story beats are very repetitive (parents fighting, the challenges get more and more extreme, people get more and more scared of the threat of bombs), and I found the characters kind of one-note.  I also am not sure what the book is saying about Juliet's mother–is it indicting her for being a working parent, and blaming her lack of attention to Juliet on the fact that she works? Or is that just Juliet's perspective?
Classroom Connections
This is a great way to bring mid-20th century into a 4th or 5th grade classroom.  You can also draw a lot of parallels between the uncertainty during the Cuban Missile Crisis, and the uncertainty now.  The duck-and-cover drills in the book, for example, would have been very foreign to me as a kid in the '90s, but they remind me a lot of the lockdown drills I do with my students.  This book could also be a good way to discuss bullying and gender issues with upper elementary students.
Accelerated Reader
Quiz: 137028
Level: 4.6
Points: 7.0