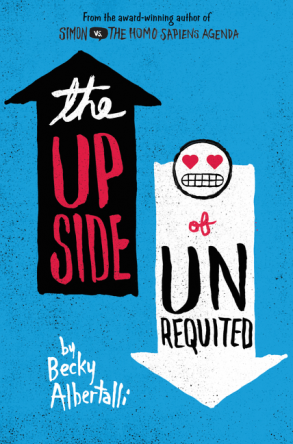 Publisher:

Balzer & Bray/Harperteen

ISBN:

0062348701

Published:

April 11, 2017
Goodreads
Synopsis
From Goodreads:
Seventeen-year-old Molly Peskin-Suso knows all about unrequited love—she's lived through it twenty-six times. She crushes hard and crushes often, but always in secret. Because no matter how many times her twin sister, Cassie, tells her to woman up, Molly can't stomach the idea of rejection. So she's careful. Fat girls always have to be careful.
Then a cute new girl enters Cassie's orbit, and for the first time ever, Molly's cynical twin is a lovesick mess. Meanwhile, Molly's totally not dying of loneliness—except for the part where she is. Luckily, Cassie's new girlfriend comes with a cute hipster-boy sidekick. Will is funny and flirtatious and just might be perfect crush material. Maybe more than crush material. And if Molly can win him over, she'll get her first kiss and she'll get her twin back.
There's only one problem: Molly's coworker Reid. He's an awkward Tolkien superfan with a season pass to the Ren Faire, and there's absolutely no way Molly could fall for him. Right?
What I Liked
It's a YA romance about a fat teenage girl who struggles with her self-image and weight, but learns that she isn't defined by it–obviously, I'm right there for this.  Even though it's first person from Molly's perspective–and Molly has a very clear and distinct narrative voice–the writing makes clear that a lot of Molly's fears and issues are internal and the source of her limitations, not her weight.  Molly's family is non-conventional: her parents are lesbians and an interracial couple, and her twin sister is a lesbian who is also in an interracial couple, and it's great to have that casual representation.  I really appreciate how Molly doesn't have to change who she is at the end of the book–either in terms of personality, or physically–and her relationship with Reid feels genuine and is very sweet.  It's a very life-affirming book that completely embraces the insecurity and self-consciousness of feeling like everyone has left you behind.
Classroom Connections
This book could be part of an exploration of coming of age stories, or romance stories where the physically imperfect female lead undergoes a magical makeover montage and is consequently a viable romantic option.  Molly kind of subverts that trope.
Accelerated Reader
No AR quiz yet!  This is not a book for elementary aged students.  There are lots of references to teenage sex, and plenty of underage drinking (it's depicted as normal, BUT not as a good thing).  Tagging it with 6th because that's the very youngest grade level who should read it.