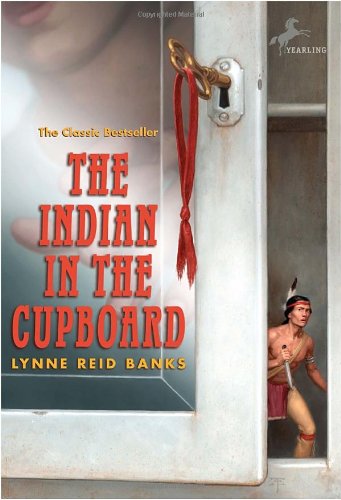 Publisher:

Collins

ISBN:

0007148984

Published:

October 18, 1980
Goodreads
Synopsis
From Goodreads:
At first, Omri is unimpressed with the plastic Indian toy he is given for his birthday. But when he puts it in his old cupboard and turns the key, something extraordinary happens that will change Omri's life for ever.
For Little Bull, the Iroquois Indian brave, comes to life…
I don't remember the rest of the books in the series very well, but the character is actually Little Bear in this book–I think he changes his name later on.  This Goodreads synopsis is pretty spare, but basically this book is about Omri trying to give Little Bear what he needs to be happy while hiding him in Omri's bedroom and trying to keep him a secret.  And trying to keep his friend, Patrick, from making a lot of bad decisions about Little Bear (and the cowboy they put in the cupboard, Boone).
What I Liked
I read this book so many times when I was in elementary school that the words were incredibly familiar to me.  I'm pretty sure I saw the '95 movie, too.  But the story holds up!  It's engaging and suspenseful, and luckily Omri has enough common sense to balance out Patrick's terrible ideas.  I don't remember finding Little Bear's demands of Omri and his complete entitlement as hilarious as I find it now, but it is pretty funny.  While the stakes are high–Omri quickly grasps that adults finding out about Little Bear and the magic cupboard/key would be a disaster–the arc of the story itself is fairly small, but enjoyable and fairly practical.  Being a fantasy fan doesn't mean that you have to totally jettison any kind of logic or pragmatism, so I find the book's focus on Omri's logistical challenges a real strength.  I remember liking the rest of the series–although I don't think I read the last one–but I read the Wikipedia plot summaries the other day, and they really don't sound as good as this book was.  I don't need to have a complicated backstory involving Omri's family history to explain the magic; the simplicity of a putting something plastic into the cupboard and it becoming real is really enough.
Classroom Connections
Obviously, there's the link to American History–students can investigate the time periods that Little Bear and Boone came from.  I'd love to have kids write their own version, picking the time period themselves (or with me assigning their time period).  What's interesting is that Little Bear and Boone are from different times and places, and the state of Native populations in Boone's time is very different from that of Little Bear's.  The book only touches on that, but I think it'd be interesting to explore.  Students can also map the hero tale narrative onto the story–I think you could do different versions, with different characters as the central hero.
Accelerated Reader
Quiz: 231
Level: 4.6
Points: 6.0