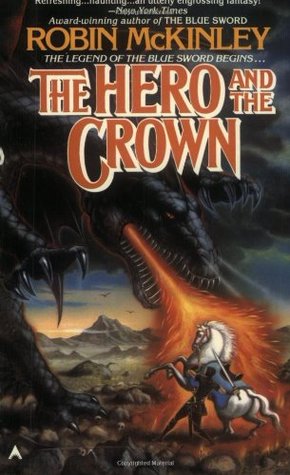 Publisher:

Ace

ISBN:

0441328091

Published:

April 15, 1987
Goodreads
Synopsis
From Goodreads:
Aerin could not remember a time when she had not known the story; she had grown up knowing it.
It was the story of her mother, the witchwoman who enspelled the king into marrying her, to get an heir that would rule Damar; and it was told that she turned her face to the wall and died of despair when she found she had borne a daughter instead of a son.
Aerin was that daughter.
But there was more of the story yet to be told; Aerin's destiny was greater than even she had dreamed–for she was to be the true hero who would wield the power of the Blue Sword…
What I Liked
Classic feminist high fantasy epic and the prequel to The Blue Sword (another classic).  It's a solid story about a girl who is the daughter of a king, but never felt she belonged–and who then uses her skills and interests to create a place for herself.  The second half of the book gets kind of mythical and abstract, as Aerin's journey becomes part of a larger struggle between her kingdom and the forces of the north.  It's great to read a high fantasy novel that centers on a woman and has a lot of action elements, while also recognizing the negative side of being different from the people around you.  I also loved the presence of animals in the story, and Aerin's relationship with her father's battle-horse.
Classroom Connections
I'm using this as a hero tale literature circle choice–it fits the hero tale cycle very well.  There's a lot in the book about adaptation and being an outsider, and since this fantasy world draws a lot from the medieval world, it would be interesting to read this alongside that unit in 7th grade, to make those comparisons.
Accelerated Reader
Quiz: 227
Level: 7
Points: 15.0

The writing is dense at times, but it's a great book for 5th grade and up.