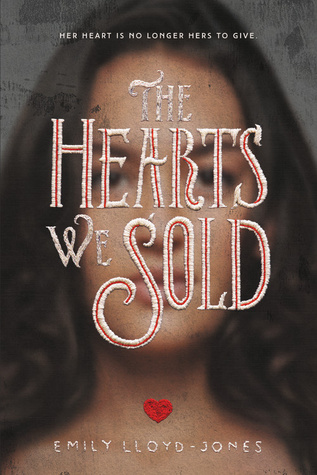 Synopsis
From Goodreads:
When Dee Moreno makes a deal with a demon—her heart in exchange for an escape from a disastrous home life—she finds the trade may have been more than she bargained for. And becoming "heartless" is only the beginning. What lies ahead is a nightmare far bigger, far more monstrous than anything she could have ever imagined.
With reality turned on its head, Dee has only a group of other deal-making teens to keep her grounded, including the charming but secretive James Lancer. And as something grows between them amid an otherworldy ordeal, Dee begins to wonder: Can she give someone her heart when it's no longer hers to give?
What I Liked
Urban fantasy is such a fascinating sub-genre, and this is a quietly intriguing addition.  A modern society in which creatures referring to themselves as demons grant wishes in exchange for physical body parts is a concept with a lot of potential, and fits perfectly with contemporary America.  The book is focused on Dee and the other members of her troop, but it does touch on the larger ramifications of living in such a society–the rumors about celebrities and what they may have traded in for what talent or ability; the fascination/stigma around having a prosthetic limb; the rules the demons lay out to earn humans' trust.  I love the idea that the demons have been appearing and withdrawing from human society over hundreds of years, and that the advent of social media makes it impossible to continue the pattern of  withdrawing and allowing their existence to fade into legend.
What really kept me from absolutely loving the book was the writing.  The narrative is very quiet and atmospheric in a way that fits the story extremely well, but I think that level of remove made it difficult for me to connect fully with Dee and the other characters.  I liked that Dee's family situation wasn't as flat out horrible as it could have been–abuse takes many different forms, and the abusive nature of Dee's family is very realistic–but I felt that I was watching it occur from a distance, instead of feeling Dee's anger and frustration.  The relationship I actually felt the most was the one between Gremma and Dee.  I felt ambivalent about the romance, but I thought the ending was handling really well and felt natural.  I felt Dee was changed from the relationship, and in more than a "I'll never forget you" way.
Classroom Connections
The idea of making a deal with the devil is all over popular culture and folklore, so using this book in a unit on those types of stories would be so interesting and work really well.  You can also study the book from a disability angle, which I think would be really fascinating–what are the anxieties around amputees in the book, and how does that compare with the way our society treats them?
Accelerated Reader
No quiz yet.  The writing is pretty accessible, but I don't think this is appropriate for elementary aged students.  There is talk of underage drinking, non-graphic but strongly implied teenage sex, and the overall concept and Dee's abusive family are kind of intense.  It's fairly clean for YA, though.  On the representation side, Dee is Latino, and her roommate is gay, plus there are a lot of amputees in the society in the story.