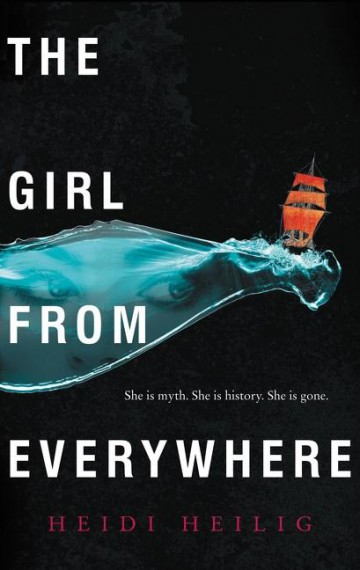 Publisher:

Greenwillow Books

ISBN:

0062380753

Published:

February 16, 2016
Goodreads
Synopsis
From Goodreads:
Nix has spent her entire life aboard her father's ship, sailing across the centuries, across the world, across myth and imagination.
As long as her father has a map for it, he can sail to any time, any place, real or imagined: nineteenth-century China, the land from One Thousand and One Nights, a mythic version of Africa. Along the way they have found crewmates and friends, and even a disarming thief who could come to mean much more to Nix.
But the end to it all looms closer every day.
Her father is obsessed with obtaining the one map, 1868 Honolulu, that could take him back to his lost love, Nix's mother. Even though getting it—and going there—could erase Nix's very existence.
For the first time, Nix is entering unknown waters.
She could find herself, find her family, find her own fantastical ability, her own epic love.
Or she could disappear.
What I Liked
The premise is fantastic: traveling through space and time using maps is such an evocative idea, and there's inherent tension between Nix's father's determination to save his wife, and Nix's fear that doing so would prevent her from existing.  The story deals a lot with liminality: characters and timelines that are not quite fake, but not quite real; a Hawaii in transition from independent kingdom to American state; a family with one parent from the 1980s and one from the 1860s.  Nix herself is an incredibly liminal character–she's biracial, her parents are from two different times, she often passes as a boy, and she's grown up outside of time and outside of country, on a time-traveling ship.  All this makes the book basically written for me, and I'm really excited to read the sequel.  The only thing I disliked about the book was Nix's indecision in her feelings for two boys, but even that fit so well in the theme of liminality (and can be read as a parallel or counter to her father's character arc) that it didn't bother me much.  Nix is also such a strongly written, well-defined character that her feelings for someone she barely knows felt more plausible than I expected.
Classroom Connections
The bulk of the book takes place in 1860s Hawaii, and the amount of research that went into writing that part of the book must have been tremendous.  I've never been to Hawaii, and I've only read one book on Hawaiian history (Unfamiliar Fishes by Sarah Vowell, which I strongly recommend), but I got an amazingly clear picture and sense of that place and time as I read.  The book would definitely work well alongside a unit on American imperialism, or on historical fiction generally. Nix's story also fits the hero tale structure–even with a trip to the underworld, of sorts–so I might add that in as a literature circle option for my sixth graders next year.
Accelerated Reader
Quiz: 182516
Level: 5.2
Points: 13.0

This is really more of a middle school/high school book than one that is appropriate for 5th graders, despite the 5th grade reading level.  There are allusions to (adult) drinking and drug use, and it's implied some of Nix's shipmates suspect her of sleeping with someone (although she doesn't).  The main setting is historically accurate 1860s Honolulu, and it doesn't ignore the unsavory parts.
The Girl From Everywhere
Pros
- Amazing concept and great execution
- Thoroughly researched historical fiction
- Strongly defined half-Asian teenage girl protagonist
- Lots of fascinating themes
- Accessible for below grade level readers
Cons
- Not wild about the love triangle
- Great for middle/high school, but too mature for elementary
- Some of the plot gets complicated