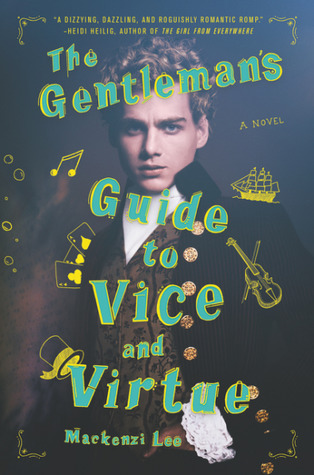 Publisher:

Katherine Tegen Books

ISBN:

0062382802

Published:

June 27, 2017
Goodreads
Synopsis
From Goodreads:
Henry "Monty" Montague was born and bred to be a gentleman, but he was never one to be tamed. The finest boarding schools in England and the constant disapproval of his father haven't been able to curb any of his roguish passions—not for gambling halls, late nights spent with a bottle of spirits, or waking up in the arms of women or men.
But as Monty embarks on his Grand Tour of Europe, his quest for a life filled with pleasure and vice is in danger of coming to an end. Not only does his father expect him to take over the family's estate upon his return, but Monty is also nursing an impossible crush on his best friend and traveling companion, Percy.
Still it isn't in Monty's nature to give up. Even with his younger sister, Felicity, in tow, he vows to make this yearlong escapade one last hedonistic hurrah and flirt with Percy from Paris to Rome. But when one of Monty's reckless decisions turns their trip abroad into a harrowing manhunt that spans across Europe, it calls into question everything he knows, including his relationship with the boy he adores.
What I Liked
This book was a pleasant surprise.  From the title and description, I was expecting more of a straightforward jerk running around Europe behaving badly narrative.  The actual story, though, is far more interesting and nuanced.  Monty starts out behaving badly, sure, but he changes over the course of the story, and gets called out multiple times–for his behavior, and also for his privilege.  His obliviousness to the challenges Percy faces as a person of color in the 18th century feels believable and speaks to character.  Monty is someone who regularly breaks all the rules and gets away with it, so why should Percy's experiences be any different?  Percy's repeated attempts to distance himself from Africans who were not raised as British, as he was, is fascinating, and I wish that had been explored more.  We do see Percy with a group of black men when they spend time with the privateers, but I would have loved to see Percy interact with a slave, to see the affect it would have on how he thinks of himself and his place on the world.  It also might have helped Monty realize just how different Percy's experiences are always going to be from his, and how challenging their life together could be.  Felicity is another great character, and the dynamics between the three of them is really fun.  I'm glad there's a central mystery to the story–that gives it a lot more focus, and it expands the world a lot.
Classroom Connections
Historical fiction with a bisexual man and a person of color at the center of the narrative is important and a pretty big deal, since those stories are often erased.  The author's note at the end of the book describing her research is powerful–it's affirming that people like Percy and Monty actually existed in that time and place.  This book can provide a more complex view of 18th century Europe than a lot of textbooks offer.  I don't teach that time period, but this book will absolutely be in the LGBTQA resource center library my Leadership students and I are building.
Accelerated Reader
No quiz–it's published too recently.  There aren't a lot of swears, but there are references to sex and there's a lot of drinking.  Monty's father is abusive, and while we don't see any of that, there is a discussion of it.  I'm tagging it for 7th grade, because I think that's probably the youngest comfortable fit.
The Gentleman's Guide to Vice and Virtue
Pros
- Historical fiction with a diverse cast
- Queer couple in historical fiction that isn't doomed!
- Extremely well-researched
- Fun, engaging story with a lot of action
Cons
- Ending is a little too fairy tale
- Would have liked more exploration of certain issues
- Abusive father aspect felt shoehorned in
- Not appropriate for younger readers