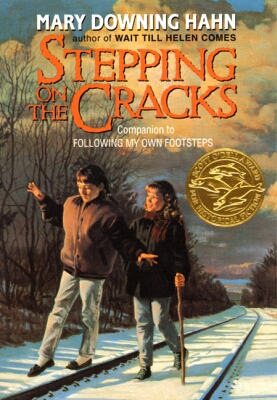 Publisher:

HarperTrophy

ISBN:

0380719002

Published:

October 1, 1992
Goodreads
Synopsis
From Goodreads:
In 1944, when her brother is overseas fighting in World War II, eleven-year-old Margaret changes her mind about the school bully, Gordy, after she discovers he is hiding his own brother, a deserter.
What I Liked
This book deals with a slew of heavy issues: bullying, domestic violence, lying to parents, the loss of a family member, and desertion from the army.  The story could have been preachy, but the issues are done with a fair level of nuance.  Characters both side with Stuart's decision to desert and condemn it, especially in the context of their own family members fighting and potentially dying (or in some cases, actually dying).  Gordy's bullying is kind of simplified–he's like that because his father is abusive–but not unrealistic.  The adults in the story aren't perfect, and the children don't make the best decisions, either.  All this ambiguity is set against the end of World War II–a pretty unambiguous war–which heightens the difficulty of the situation Margaret and Elizabeth find themselves in.
The only character who is basically saintly is Barbara, who is the same age as their brothers (recently out of high school) and whose husband has already died in the war, leaving her with a baby (adding to her saint status).  It makes sense thematically, I guess, for Barbara to be the one to consistently make better decisions than anyone else; she's not much older than Margaret, Elizabeth, and Gordy, but is a widow with a baby.  To them, she's an adult, even though she lives with her parents in her childhood bedroom.  However, Barbara felt far less of a real character than anyone else did.
I'm not crazy about the book–it feels a little heavy-handed at times, and it was hard for me to connect with the characters or the story.  It's not the most historically accurate, which bothered me a little.  Early on, Margaret (the narrator) refers to the war as World War II, for example.  But it's a solid middle grade book about difficult issues that I can see a lot of kids getting into.
Classroom Connections
It's a great look at how war affects those at home, and the difficult issues it brings up.  Obviously, this would be great alongside a WWII unit, but given the current world situation, there are plenty of real-world connections to make.  I would also consider using the book as an example of how to deal with political issues on a personal level (that's rooted in story and character), and there's a lot of material in comparing the children and the adults in the story.
Accelerated Reader
Quiz #: 6629
Level: 4.7
Points: 8.0
These issues might be a little intense for some 4th graders, but the book is very much written for that age range (middle grade), so I think it would be fine.  Even some 3rd graders would be able to enjoy it and get something out of it.  There's enough going on that older middle schoolers could enjoy it, but I would really push them to go a little deeper, since they're old enough to have interesting thoughts and conversations about the questions about bravery and morality the characters grapple with.