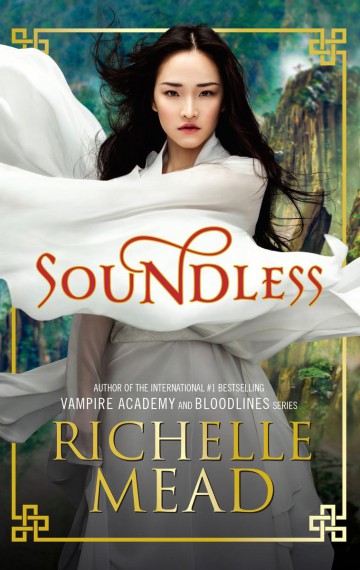 Publisher:

Razorbill

ISBN:

1595147632

Published:

November 10, 2015
GoodReads
This was such an unusual book, and I really enjoyed it.
Synopsis
The premise is really interesting: Fei and her sister live in a village where everyone has been deaf for generations, and the only jobs available are miner, artist, and supplier. Their village is high up on a mountain, and they rely on the food that comes up the supply line in exchange for the metal they mine. Fei and her sister were able to move across rigid class lines, going from miners to artists simply due to their artistic talents. When Fei realizes her sister, like many of the miners, is starting to lose her sight, she decides to investigate the supply line–why are they getting less and less food, even though the miners are working the hardest they ever have? What is causing the miners–and her sister–to lose their sight? And why did her ancestors lose their hearing in the first place?
What I Liked
The author does an amazing job of creating fully immersive world where everyone is deaf, and where people simply accept the hardship and strict social norms of the community. The village also felt like a place with a very deep history, and I liked the kind of solidness that history gave the story. Moreover, the story draws from Chinese folklore, and I really loved reading a fantasy story that doesn't come out of any kind of European tradition.
Fei is a really fun character, and it was interesting to see how interacting with Li Wei–her longtime crush, and the only one who wanted to help Fei figure out what was going on–brings out different aspects of her personality. I am never really crazy about love stories, but the relationship here never gets in the way of the main story, or distracts from Fei accomplishing things herself. I appreciated how towards the end, things actually get worse and worse for Fei and the villagers, which isn't what I expected, but felt completely true to the characters of the villagers. The ending is a little deus ex machina, but it doesn't completely come out of nowhere, as there are connections to the ending throughout the book.
Classroom Connections
I think this would be a really fun book to read as a class, paired with the 6th grade Social Studies unit on Ancient China. The students could trace influences from the different Chinese philosophies, and different aspects of ancient Chinese government and society, throughout the story. A final project could have students writing their own fantasy story, based on their own folklore or on elements in their own cultures or families. It could also be a great introduction to fantasy for students, or a way to expand how students think of fantasy stories.
Accelerated Reader
Quiz Number: 178016
Level: 6
Points: 12