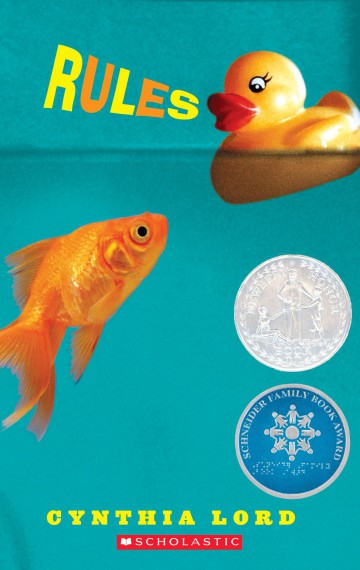 Synopsis
From Goodreads:
Twelve-year-old Catherine just wants a normal life. Which is near impossible when you have a brother with autism and a family that revolves around his disability. She's spent years trying to teach David the rules-from "a peach is not a funny-looking apple" to "keep your pants on in public"-in order to stop his embarrassing behaviors. But the summer Catherine meets Jason, a paraplegic boy, and Kristi, the next-door friend she's always wished for, it's her own shocking behavior that turns everything upside down and forces her to ask: What is normal?
What I Liked
This is a heartfelt look at growing up with a sibling with disabilities–one that doesn't gloss over the resentment and jealousy that can occur when a 12 year old has spent much of her childhood expected to make sacrifices because of her sibling.  The use of rules as focal points for the chapters shows how Catherine has tried to structure her and David's lives around simple rules of behavior, while providing a repetition that at times feels comforting and confining.  Catherine's friendship with Jason feels very natural, as does her difficulty in balancing that friendship–and her complicated feelings about it–with her new friendship with Kristi and desire to be seen as "normal."  I love the way Catherine connects with Jason over vocabulary–she's frustrated and kind of angry that his self-expression is limited by his word cards, and it's an issue she clearly relates to.  The fact that Catherine relates to him directly, instead of relating to him through her brother, is unexpected, and keeps the relationship from feeling clichéd.  Neither Jason nor David are inspirational figures; while her friendship with Jason does provide an emotional and character turning point for Catherine, it doesn't feel like a plot device.
Classroom Connections
I love how the book features two main characters with very different disabilities, and treats them like full people.  I'm actually using this book as a literature circle option in my Leadership elective.  The choices Catherine has in this book, and how conflicted she feels about wanting to fit in and become best friends with the girl next door, while not wanting to betray her brother or her friendship with Jason, are great areas of discussion with a class.
Accelerated Reader
Quiz: 106154
Level: 3.9
Points: 4.0

This book is middle grade, so upper elementary is the perfect age for it, but the issues in the book are definitely relatable for middle schoolers.
Rules
Pros
- Main characters with disabilities
- Complex look at a sibling of a child with disabilities
- Accessible to many reading levels
- Great for younger readers
Cons
- Not as high interest to older readers, given the middle grade writing style
- Subject matter may be too nuanced/difficult to understand for much younger readers