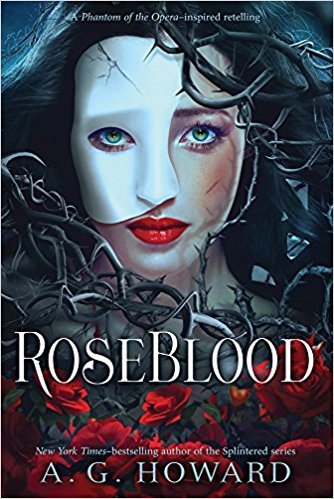 Publisher:

Harry N. Abrams

ISBN:

1419719092

Published:

January 10, 2017
Goodreads
Synopsis
From Goodreads:
In this modern day spin on Leroux's gothic tale of unrequited love turned to madness, seventeen-year-old Rune Germain has a mysterious affliction linked to her operatic talent, and a horrifying mistake she's trying to hide. Hoping creative direction will help her, Rune's mother sends her to a French arts conservatory for her senior year, located in an opera house rumored to have ties to The Phantom of the Opera.
At RoseBlood, Rune secretly befriends the masked Thorn—an elusive violinist who not only guides her musical transformation through dreams that seem more real than reality itself, but somehow knows who she is behind her own masks. As the two discover an otherworldly connection and a soul-deep romance blossoms, Thorn's dark agenda comes to light and he's forced to make a deadly choice: lead Rune to her destruction, or face the wrath of the phantom who has haunted the opera house for a century, and is the only father he's ever known.
What I Liked
This book is ambitious and makes a good effort, but frustratingly comes up short.  The idea of a Phantom of an Opera story set at an opera boarding school is pretty cool, and I appreciate the connections to the original Phantom story (as a theatre fan).  The fact that it's a boarding school that seems kind of isolated–it appears to be out in the French countryside, and students only leave campus for weekend Paris trips–is fantastic in creating a lot more tension and upping the spooky atmosphere.  All the characters are basically trapped, which is perfect for a story where it seems the building itself is dangerous.
The cast is surprisingly diverse for a book set in a French opera boarding school: I was happy to see one main character is Asian-American (and dating a white girl!), and another is Latina.  However, the author falls into some tired tropes with both characters.  The former's name sounds really made-up to me (and to my Taiwanese-American husband), and I was disappointed to see his eyes described as "almond-shaped."  The latter has a tragic backstory and is the only student in the book from a low-income family.  I appreciate the effort, but I wish there had been some more effort in those characters.
Overall, I thought the book was okay.  It often veered into melodrama–which, given the story, could have been really fitting, but instead was so over-the-top it pulled me out.  Rune as a character was so irritating: it's hard to pull for someone whose power causes her to sing complicated arias PERFECTLY with zero practice.  Even the downsides of her power was kind of eye roll inducing: oh no, she sings perfect arias and then collapses!  Oh no, she's so overcome she kisses (apparently only attractive) boys wildly and can't control herself!  Even the reason behind that (and the source of her powers, I guess?) is kind of overwrought.  The parts of the story told from Thorn's point of view were the most ridiculous.  The story would have been served better if we had experienced the mystery along with Rune, instead of knowing so much about Thorne and the Phantom.
Classroom Connections
This can be a good part of a unit on adaptation, or the use of setting in driving a story.  There isn't a lot of history here, but it is used a little.
Accelerated Reader
Quiz: 188262
Level: 6.8
Points: 20.0
This is more of an older middle school book: there's not a lot of swears and there's nothing graphic, but the stuff between Rune and Thorne is pretty sensual.