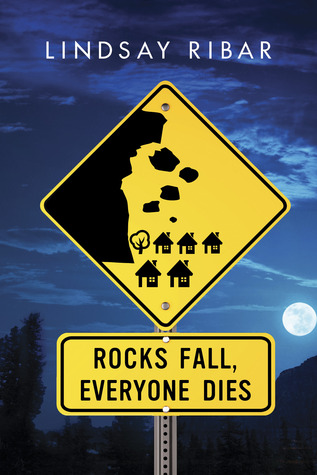 Publisher:

Kathy Dawson Books

ISBN:

0525428682

Published:

June 7, 2016
Goodreads
Synopsis
The book is about Aspen Quick, a 17 year old born into a family that has old magic–magic that is tied to a cliff overlooking a small upstate New York town.  Three family members are responsible for living in the town at all times, and if the Cliff feels itself breaking apart, those Quick family members perform a ritual to keep the Cliff intact.  Without the ritual, the Cliff will fall, destroying the town below.
The Quick family magic, though, involves stealing things from others–emotions, personality traits, even physical attributes.  Growing up, Aspen took his magic for granted and used it freely, but now he's starting to reconsider the value of such magic…as he realizes his family history isn't what he thought it was.
What I Liked
Full disclosure: I've known Lindsay for over a decade, long before her first novel was published.  She didn't ask me to review her latest book, though!  But it does mean I go into her books (this is her third novel) expecting to like them.
And I did really like this one!  But in the first half or so, I couldn't stand Aspen–which was frustrating because the book is written in first person, from his perspective.  For much of the book, Aspen is arrogant and entitled, thinking nothing of using his magic to manipulate the events around him.  He is, though, an interesting enough protagonist–as are the other characters and the story itself–for me to stick with it, and I wound up being glad I did.  Aspen gets called out on his behavior, and it's immensely satisfying.  He also decides to change his relationship to magic and the people around him, once he realizes the truth of his magic origins.  The themes of the book–what makes a person a person, both in personality and in family–kick into high gear at this point, as Aspen struggles with the consequences of his magic for the first time.  A lot of the things I disliked about Aspen pay off tremendously in the second half of the book.
I also think his arrogance and entitlement do a lot to drive the message of the book home, especially for teenagers. A lot of Aspen's behavior early on is pure teenage boy wish fulfillment, and Aspen's total obliviousness as to its implications makes his journey all the more rewarding–and, I think, relatable.  A lot of the book is Aspen learning empathy, and that he shouldn't be a puppetmaster–and I think it's easy for teenagers, especially ones stressed out about college, to fall into that kind of self-absorption.
I also really, really love that Aspen is so obnoxious when he's half-Asian, because he completely plays against stereotype.  Lindsay in general is especially great at writing Asian teenage boys against type, and it was exciting to see that here, particularly with a half-Asian teenage boy as the protagonist.  I liked how his ethnicity was sprinkled throughout the book–without any references to his "almond-shaped eyes"–and it was fascinating to me how his mother is an outsider to the Quick family both in her lack of magic and in her ethnicity.  I wish that had been explored a little more, but I'm not sure how that could have happened without being incredibly obvious.  I also would have liked Aspen's biracial-ness to feel a little more present, but again, I'm not sure what exactly that would have looked like.  The small upstate town where the book takes place felt very white to me, though, and I know from experience that biracial couples in small towns stand out, so I was missing that kind of dynamic.  Again, I'm not sure what that would look like.  I also know that kind of exploration is tricky for a white author to do, so it actually might be best for all that to be subtext.
Classroom Connections
There's a lot to explore with a class in terms of Aspen's ethnicity, as I just mentioned–I think that could generate a lot of interesting class discussion and writing assignments.  There's also so much in the book about jealousy, bullying, and the nature of who a person actually is.  These themes would be perfect for an 8th grade class, especially in the second half of the year, when everyone is thinking about high school.  Another rich area of the book is the presence and roles of female characters.  Like in Carry On, there are a LOT of complex female characters, and they're all decidedly feminist in a variety of ways.  Students could definitely explore gender in this book, and look at what makes a character feminist–especially when the male protagonist doesn't exactly start out that way.
Accelerated Reader
Annoyingly, none of Lindsay's books have AR quizzes.  It's especially irritating because this past school year I had below grade level readers who are obsessed with The Art of Wishing and The Fourth Wish, and I wish they could get points for them.  While those two books are great for 6th graders, this book isn't appropriate for anyone under 8th grade (maybe some 7th graders?), due to the underage drinking and teen sex.  There's nothing graphic, but this is more of a YA book in my opinion because of those references, and I wouldn't feel comfortable letting any 6th grader pick it up.  (I realize I might be on the more conservative side, but since I'm still in my first few years of teaching I'm still feeling out the boundaries.) For 8th and up, though, it's perfect.  It reads similarly to Carry On, which means it is probably below grade level in terms of decoding–which is great, because it's not always easy to find high interest books for lower 8th grade readers.
Rocks Fall, Everyone Dies
Pros
- Half-Asian male protagonist!
- So many awesome female characters!
- Magic perfectly integrated into the real world
- Great for teens who are below grade level readers
- Perfect example of an unlikeable protagonist
Cons
- Too teenage for 6th graders
- Protagonist is super irritating at the beginning
- No AR quiz