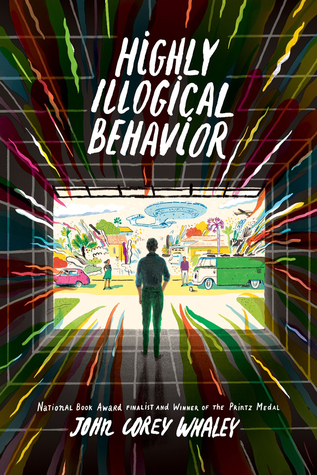 Publisher:

Dial Books

ISBN:

0525428186

Published:

May 10, 2016
Goodreads
Synopsis
From Goodreads:
Sixteen-year-old Solomon is agoraphobic. He hasn't left the house in three years, which is fine by him.
Ambitious Lisa desperately wants to get into the second-best psychology program for college (she's being realistic). But is ambition alone enough to get her in?
Enter Lisa.
Determined to "fix" Sol, Lisa steps into his world, along with her charming boyfriend, Clark, and soon the three form an unexpected bond. But, as Lisa learns more about Sol and he and Clark grow closer and closer, the walls they've built around themselves start to collapse and their friendships threaten to do the same.
What I Liked
This book reminded me in a lot of ways of Wonder: both center around a boy whose disability affects their socialization with their peers, and both deal with how cruelty isn't always overt.  In Wonder, August's limited socialization was when he was homeschooled until 5th grade; in Highly Illogical Behavior, Sol literally hasn't left the house in three years.  One of the main themes in Wonder is that you can be nice and still be mean, and that's definitely shown in Highly Illogical Behavior, in Lisa's quest to "fix" Sol.  Her motivations are pretty clearly self-serving, which the book directly confronts, but when she first comes up with the idea, she seems to genuinely believe she's doing a nice thing for Sol, and that it was a win-win situation.  The fact that her idea is actually horrible–and the impact the truth has on Sol–is a big part of the final section of the book, and the author doesn't absolve Lisa or make excuses for her.  The book's structure, in which chapters alternate between Sol and Lisa's perspectives, do a lot to humanize Lisa and show her complexity.
Because of the book's structure, this is Sol and Lisa's story–it doesn't belong to just one of them.  I thought that was a smart move, because it allows the reader to feel the limitations and feeling of being trapped that exist for both characters.  Both their worlds are smaller than they'd like, and reading from only their perspectives lets the reader experience that.  It also keeps the story nuanced, and underlines the similarities between the two characters.
I can't speak to the accuracy of the depiction of an agoraphobic character, but I loved how the book made an effort to express Sol's panic attacks and his view of the outside world.  Sol is not a character to be pitied or held up for inspiration; in fact, his home life seems to be the most functional out of the three characters.  There were a number of times the author could have taken an easy, clichéd route, especially regarding Lisa and Clark's relationship and Sol's coming out as gay.  The teenagers read like actual teenagers, which makes the story in general a quick but really compelling read.
I gave this book to one of my students to read, and he LOVES it, so that is a strong endorsement.
Classroom Connections
There are a lot of great issues in this book that students can easily relate to.  Clark and Lisa's home lives are not the best–especially Lisa's–which helps set up some clear character studies and comparisons.  The representation of mental illness in the book is so important, and would be interesting for students to explore, especially in terms of the concept of mental illness as something to be "fixed."  I also think you could map Sol's storyline onto the hero's journey, which fits with his science fiction obsession (I know the hero's journey is more of a fantasy thing, but it's in sci-fi, too).
Accelerated Reader
Quiz: 181890
Level: 4.4
Points: 8.0
This is very much a middle/high school book, dealing with middle and high school issues.  There are references to sex, though not graphic and age appropriate for middle school.  Sol's agoraphobia is also not an easy issue for younger readers to grapple with.  If I knew a fifth grader who had anxiety like Sol's, I might give it to the student to read, but quite honestly I feel more comfortable giving this book to middle schoolers.  Any students who feel pressured to be perfect like Lisa or to conform like Clark, or who share Sol's social anxiety would really love this book.