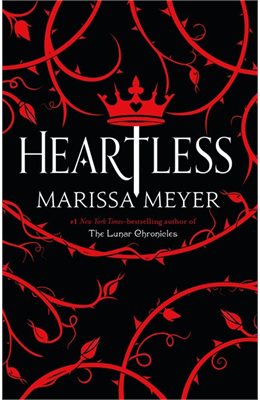 Publisher:

Feiwel & Friends

ISBN:

1250044650

Published:

November 8, 2016
Goodreads
Synopsis
From Goodreads:
Catherine may be one of the most desired girls in Wonderland and a favorite of the unmarried King, but her interests lie elsewhere. A talented baker, she wants to open a shop and create delectable pastries. But for her mother, such a goal is unthinkable for a woman who could be a queen.
At a royal ball where Cath is expected to receive the King's marriage proposal, she meets handsome and mysterious Jest. For the first time, she feels the pull of true attraction. At the risk of offending the King and infuriating her parents, she and Jest enter into a secret courtship.
Cath is determined to choose her own destiny. But in a land thriving with magic, madness, and monsters, fate has other plans.
What I Liked
Meyer is one of the best at world-building, by far.  As I read, I kept hoping this was part of a series (a duology or trilogy even) so I could explore the world more and spend more time in it.  The way she takes elements from the Wonderland stories and creates a consistent, expansive, and imaginative world is masterful.  If she taught a  world-building workshop, I would be there in a heartbeat.
Meyer is also brilliant at creating complicated, morally ambiguous characters, and she shines here.  Levana remains her most heartbreaking character, in my opinion, but I enjoyed seeing a different kind of uncertainty in the characters of Catherine and Jest.  I still don't completely trust Jest, and I wonder how much of what we know about him is blinded by Catherine's perspective.  I also loved how deeply the idea of being married to the King repulsed her, without the King being evil.  I really appreciated how Catherine's rebellion and motivations are rooted ultimately in her inability to escape her life–her romance with Jest felt more symbolic to me than genuine.  That is, Catherine thought her actions and her choices were really about him, but I think they were really about having any kind of agency at all, once she realized her dream of opening a bakery was never going to happen and she saw her options running out.  For me, viewing the book as a piece on choice and personal agency, instead of as a doomed love story, makes the book much more powerful.
I'm by no means one to require a happy ending (I mean…ask me about my favorite musicals sometime), but I did feel that Catherine's story was incomplete.  I wanted some kind of redemption, I guess?  That's another reason I want this book to be the first in a larger story.  I feel that there's more to tell, and I really want to know what will happen to Catherine and her kingdom later on.  I would really love a sequel that takes place years later, when Alice arrives in Hearts.  Or a book from the perspective of someone in Chess, a land we don't know much about but whose agents are important in much of the plot.
Classroom Connections
This is a fantastic addition to the "Variations on Wonderland" category of books, which would be a really fun unit to do with students.  This book could also be part of a unit on feminism and agency (throughout other novels, or rooted in history), The moral ambiguity of the characters would also be an interesting thing to study.
Accelerated Reader

Quiz: 185639
Level: 5.6
Points: 20.0
This is a book that would be fine for upper elementary, although there are a lot of scary parts.  5th and up would be perfect.