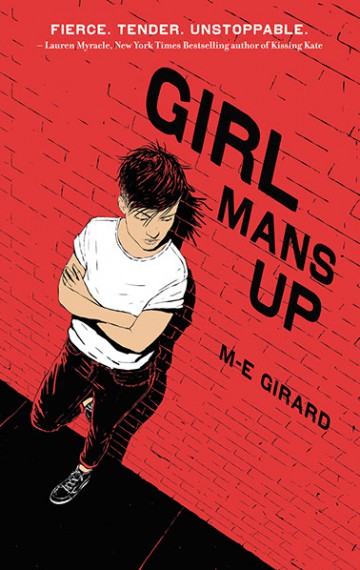 Publisher:

HarperCollins

ISBN:

0062404199

Published:

September 6, 2016
Goodreads
Synopsis 
From Goodreads:
All Pen wants is to be the kind of girl she's always been. So why does everyone have a problem with it? They think the way she looks and acts means she's trying to be a boy—that she should quit trying to be something she's not. If she dresses like a girl, and does what her folks want, it will show respect. If she takes orders and does what her friend Colby wants, it will show her loyalty. But respect and loyalty, Pen discovers, are empty words. Old-world parents, disintegrating friendships, and strong feelings for other girls drive Pen to see the truth–that in order to be who she truly wants to be, she'll have to man up.
What I Liked
This book has a lot going on, involving issues relating to gender identity, dealing with immigrant parents, sexual orientation, bullying, sexual assault, and abortion.  As a result, it's a pretty intense read, and is very much more of a high school YA than a middle school one.  The fact that it takes on so many different intense issues is great, though–it speaks to experiences many students have, and many students do struggle to navigate multiple different issues at once.  The fact that Pen's conflict with her parents over her gender expression stems largely from their conservative Portuguese upbringing adds a level of complexity to her parents' motivation, and makes them more sympathetic.  This is really underlined in the scenes with Pen's extended family, especially when they fawn over Colby, who Pen has begun to view as a sexual predator.  I loved the distinction between Pen's sexuality–which people are generally more accepting of–and her gender expression, which people are outright hostile to.
Classroom Connections
There are so many issues here that can jumpstart some fantastic discussion, and be great essay topics.  The characterizations and the group dynamics are complex and really well done.
Accelerated Reader
Quiz: 186275
Level: 4.1 
Points: 13.0
This book is wildly inappropriate for elementary school aged students–the content is very mature.  For 7th graders, it's pretty edgy, so I wouldn't give it to anyone younger than that.