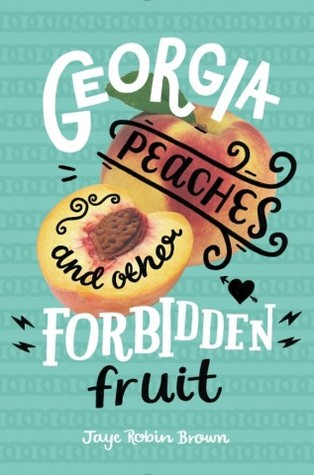 Publisher:

HarperTeen

ISBN:

0062270982

Published:

August 30, 2016
Goodreads
Synopsis
From Goodreads:
Joanna Gordon has been out and proud for years, but when her popular radio evangelist father remarries and decides to move all three of them from Atlanta to the more conservative Rome, Georgia, he asks Jo to do the impossible: to lie low for the rest of her senior year. And Jo reluctantly agrees.
Although it is (mostly) much easier for Jo to fit in as a straight girl, things get complicated when she meets Mary Carlson, the oh-so-tempting sister of her new friend at school. But Jo couldn't possibly think of breaking her promise to her dad. Even if she's starting to fall for the girl. Even if there's a chance Mary Carlson might be interested in her, too. Right?
What I Liked
My favorite part of this book is that it looks at an LGBTQA student's relationship with religion and how important it is in her life, even though other characters in the book use religion against her.  Reading about a teenager who is comfortable in her own sexual identity and who identifies as Christian just as much as she identifies as being a lesbian is uncommon, and it's a great example for students who are struggling with those issues themselves.  I also really appreciate diverse LGBTQA stories: there is a need for stories focusing on the difficulty of coming out, and on handling unsupportive families/friends, but there's also a need for stories about happy, well-adjusted LGBTQA students.  What's significant about the relationship Jo has with her father is that while he is supportive and accepting of her, Jo eventually realizes that anyone asking her to be in the closet in any situation isn't fully supportive and accepting.  There's a part of her father who clearly is still struggling with being a minister with a lesbian daughter, and it's great when he gets called out on that.  I like how there is a lot of nuance with her father–I think many parents fall into that in-between space of being supportive but still also struggling on some level, and I think Jo's father is written in a sympathetic way while still making it clear that asking her to be in the closet was wrong.
I love the relationship between Jo and Mary Carlson, and how the book explores the difficulty of trying to suss out someone's interest in you when you don't even know if they like your gender.  The dynamic between them, when Jo feels like she's betraying Mary Carlson by pretending to be closeted when really she's very out, is fascinating and frustrating.  A lot of the problems in the book do stem from miscommunication, which, reading as an adult, is frustrating, but it felt realistic for Jo to make those kind of poor decisions and not be open when she should be.
Classroom Connections
So much of the book is about expectations and pretending to be something you're not–Jo pretends, obviously, and Mary Carlson, but so do many of the other characters.  It also addresses homophobia and bullying, and the relationship between teenagers and parents.
Accelerated Reader
Quiz: 186062
Level: 4.3
Points: 12.0
The reading level is low, but the content is very much YA!  There is some language that is more middle and high school appropriate, as well as underage drinking/parties and references/scenes of teenage sexual activity.  Definitely for 7th graders and up.