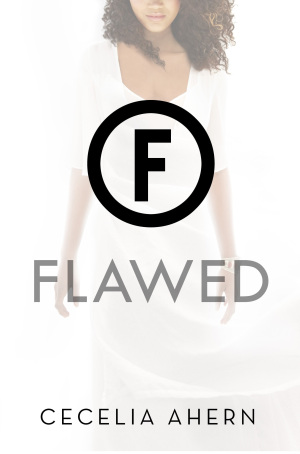 Publisher:

Feiwel and Friends

ISBN:

1250074118

Published:

April 5, 2016
GoodReads
This is another OwlCrate book, and I started reading it without realizing that it's the first in a series. I am kind of excited about that, because the entire story doesn't fit in the first book, which is pretty long–it ends on a cliffhanger of sorts, and I'm looking forward to seeing where the second book picks up and where the series will go.
Summary
The premise is simple: Celestine North is a teenager in a society that heavily prizes social and moral conformity. Anyone who transgresses social norms and mores is apprehended by The Guild and put on trial to determine if the person is Flawed. A Flawed person is branded with an F in one of five places, depended on the nature of her/his transgression. On rare occasions, a person may be branded twice; on extreme rare occasions, a person may be branded three times. It is uncommon for a person, once accused of being Flawed, to be found not Flawed. The Flawed live under severe restrictions, are not allowed to gather in more than groups of two without a non-Flawed person, and it is illegal to help a Flawed person in any way.
Celestine's life couldn't be any further from the life of the Flawed. Dating the son of an important Guild judge, daughter of the head of a 24 hour news network, model A student, Celestine's perfect life was right on track. Until a series of events cause her to feel a little ambiguous about The Guild and the concept of The Flawed…and until Celestine finds herself faced with a Flawed verdict.
What I Liked
There's a lot to really love about this book. I'm really into speculative fiction that is based on this world, but with some critical differences, and Flawed is a perfect example of that kind of book. It's a very recognizable world: people have cell phones, there are cars and planes and buses, and there are references to actual countries and cities that exist. I had a hard time trying to figure out what country the story takes place in, but my guess would be somewhere in the UK. Because it's so rooted in familiarity, I can easily picture a system like the one in the book taking place, given the necessary conditions. In that way, Flawed reminds me a lot of Margaret Atwood's dystopian work: I can recognize so much of modern society in those books, and in Flawed, and it's chilling.
Along those lines, I loved how the book treats things like biracial families and same-sex couples as being totally normal.  Celestine herself has a white mother and a black father. One of the major characters in the book is an Asian woman.  That diversity isn't made a big deal of in the book, and it's great to see such representation, especially in speculative fiction, and especially in a YA novel.
Flawed also shares a lot in terms of narrative with The Hunger Games. Like Katniss, Celestine makes a principled decision that, to her surprise, puts her at the forefront of a revolution against an oppressive system–and both girls are not entirely comfortable with being used as a tool of rebellion. Celestine, I feel, has some more agency and more options than Katniss does: when she makes choices that embed her more with the rebellion's cause, it's intentional, and not a question of survival, as it is with Katniss.
Another major difference–and not one I'm thrilled about–is that Celestine is largely driven by her desire to be with her boyfriend, Art. As I've said in other reviews, I'm not a fan of teenage romance stories, which makes this motivation feel kind of flat to me, especially when there's a clear set up for another romantic interest. I'm not really sure why that is even necessary. I can read Celestine's fixation on Ari as her clinging to normalcy and having him represent her old life (and the life she thought she would have), which is more interesting to me and I think gives her more depth. But I'll see where this goes in the next book. Celestine is so much more interesting than being defined by love interests, and I wish the book would focus more on her relationship with her sister, especially now that she is kind of living the life her family was always kind of worried Juniper would end up in.
Curriculum Connections
This book would be great on a unit on populism or different types of government–it could fit well with US or Ancient Civilizations. You could also use it in an ELA unit comparing different types of heros, or to study world-building. It's a YA book, but very clean, so I'd be comfortable with younger middle schoolers or fifth graders reading it, provided their reading was advanced enough.
Accelerated Reader
There's no AR quiz–I think because the book just came out–but I think decoding-wise, it'd be at around 6th grade level, though I think the concepts in the book are tougher. But I would give this book to a kid who loves the Hunger Games.