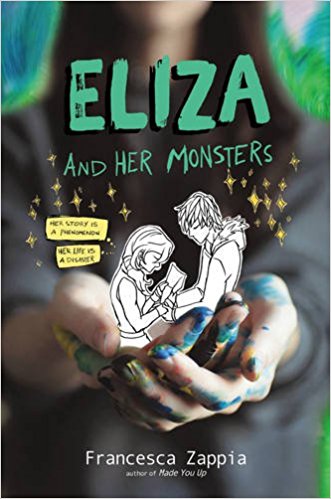 Publisher:

HarperCollins

ISBN:

0062290134

Published:

May 30, 2017
Goodreads
Synopsis
From Goodreads:
Eighteen-year-old Eliza Mirk is the anonymous creator of Monstrous Sea, a wildly popular webcomic, but when a new boy at school tempts her to live a life offline, everything she's worked for begins to crumble.
In the real world, Eliza Mirk is shy, weird, smart, and friendless. Online, Eliza is LadyConstellation, the anonymous creator of a popular webcomic called Monstrous Sea. With millions of followers and fans throughout the world, Eliza's persona is popular. Eliza can't imagine enjoying the real world as much as she loves her digital community. Then Wallace Warland transfers to her school, and Eliza begins to wonder if a life offline might be worthwhile. But when Eliza's secret is accidentally shared with the world, everything she's built—her story, her relationship with Wallace, and even her sanity—begins to fall apart.
What I Liked
I love books about angsty teenagers where it's very clear the angsty teenager in question is partially right in her angst, but also partially kind of a jerk to everyone who tries to connect with her, and Eliza is definitely in that category.  Even though the story is told first person from Eliza's perspective, it's clear that a lot of her unhappiness comes from her own fear and anxiety–and from failing to recognize that she has people in her life who do care about her.  The book reminds me of The Thing About Jellyfish in that respect, but also of Highly Illogical Behavior in its nuanced handling of mental health issues.  There are also very clear Fangirl similarities, as Eliza's sense of self-worth is so bound up in her fandom.  Although, unlike Cath in Fangirl, Eliza's fandom has an even more powerful hold on her, as it's literally her fandom–the fandom around the webcomic Eliza created and is still writing.  Eliza's conflation of self-worth and instrumental value is devastating and feels very real, especially for teenagers who feel pressured to make everything they do part of the perfect college application.  Throughout the book, all the characters–including Eliza's younger brothers–end up being more than Eliza expects of them.  I really loved Eliza's changing relationship with her brothers in particular, since she had completely written them off previously.
Classroom Connections
This would be a great book to study perspective, as well as the relationship between fans, fandoms, and creators.  Using this book as a starting part to look at the Harry Potter fandom in particular could be really interesting.  This book could also be part of a unit on mental health, or suicide awareness.
Accelerated Reader
The book JUST came out–I actually got my copy a few weeks early–so there's no AR for it yet.  My guess for reading level is probably 5th/6th grade, but it's not appropriate for younger than middle school.  There are a few swears, references to teenage sex (although nothing more than references), and a lot of mental health and suicide issues.  The book is about a high school student, and it's written for a teenage audience.