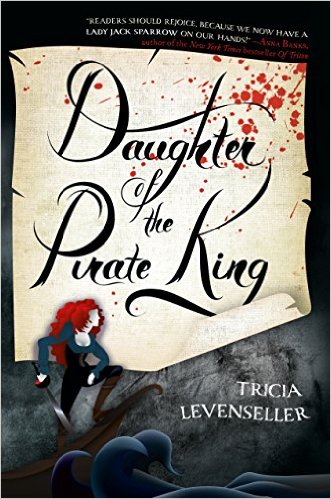 Publisher:

Feiwel & Friends

ISBN:

1250095964

Published:

February 28, 2017
Goodreads
Synopsis
From Goodreads:
Sent on a mission to retrieve an ancient hidden map—the key to a legendary treasure trove—seventeen-year-old pirate captain Alosa deliberately allows herself to be captured by her enemies, giving her the perfect opportunity to search their ship.
More than a match for the ruthless pirate crew, Alosa has only one thing standing between her and the map: her captor, the unexpectedly clever and unfairly attractive first mate, Riden. But not to worry, for Alosa has a few tricks up her sleeve, and no lone pirate can stop the Daughter of the Pirate King.
What I Liked
This is the story of a 17 year old girl who commands her own ship, with an almost entirely all female crew, with some mythological elements.  The bulk of the story takes place on a different ship, where Alosa pretends to be held captive, so there's a lot of psychological game-playing.  It's a fun take on a pirate story, but I didn't find it that engrossing.  Alosa seems too perfect, even though she does make mistakes due to her arrogance, and the fact that she has supernatural abilities feels a little bit like a cheat.  This is apparently the first in a series, and I think that's unnecessary.  The whole story about Alosa tracking down the maps and using them really could have been told in one book. That would have made for a much more interesting story.  I think too much time is spent on the ship with Alosa pretending to be kidnapped, and there isn't enough time exploring her powers.  We just see her use them a little bit.  There's an exposition dump at the end where Alosa goes through all her abilities, and while it does make some narrative sense for that to happen, it feels like a contrived way to tell the reader what her powers are and how they function, instead of showing her use them and letting us figure it out for ourselves.
Classroom Connections
A study of historical female pirates and female pirates in literature would be really fun.  Through Alosa's powers, there's a mythological angle with the siren connection.  There's also the broader concept of women at sea, which is intriguing.
Accelerated Reader
No AR quiz yet.  There are lots of references to sex, though nothing graphic, so this is definitely an older middle school book.  I think 7th/8th grade, and maybe struggling high school readers (the writing is pretty accessible).  There is kind of a mismatch between the writing and the content–this would be great for upper elementary if it weren't for some of the content.