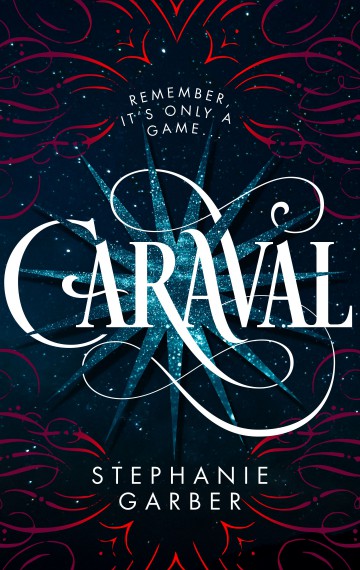 Publisher:

Flatiron Books

ISBN:

1250095255

Published:

January 31, 2017
Goodreads
Synopsis
From Goodreads:
Scarlett Dragna has never left the tiny island where she and her sister, Tella, live with their powerful, and cruel, father. Now Scarlett's father has arranged a marriage for her, and Scarlett thinks her dreams of seeing Caraval—the faraway, once-a-year performance where the audience participates in the show—are over.
But this year, Scarlett's long-dreamt-of invitation finally arrives. With the help of a mysterious sailor, Tella whisks Scarlett away to the show. Only, as soon as they arrive, Tella is kidnapped by Caraval's mastermind organizer, Legend. It turns out that this season's Caraval revolves around Tella, and whoever finds her first is the winner.
Scarlett has been told that everything that happens during Caraval is only an elaborate performance. Nevertheless she becomes enmeshed in a game of love, heartbreak, and magic. And whether Caraval is real or not, Scarlett must find Tella before the five nights of the game are over or a dangerous domino effect of consequences will be set off, and her beloved sister will disappear forever.
What I Liked
I've heard a lot of comparisons to The Night Circus, which I don't agree with.  They're similar in that they both involve an immersive, self-contained environment where it's not always clear what's real and what's not, and there's some kind of game/competition, but that's where the similarities end for me.  Caraval takes place in a fantasy world; The Night Circus takes place in a historical place and time, and the more fantastical elements are very much of that place and time.  Caraval is a very small story, although the world of the game feels very big–it's really about Scarlett and her family, and their relationship to the game's creator, Legend.  The real game or puzzle isn't the Caraval itself as much as it is the manipulations in those relationships, which I found more interesting than Scarlett herself, or the actual Caraval.  It's a solid fantasy story with mystery and some action, and I think it's the first of a series.  I personally don't find the writing or characters that compelling, but it's not bad.
Classroom Connections
The world-building of the Caraval is pretty fun, and there are a lot of allusions to Scarlett's options and her place in the larger world–there's definitely room for exploring gender roles and expectations from that angle.  The rules of the game are also interesting, and students can draw parallels between the game in the Caraval, and the game Scarlett finds herself in that's orchestrated by her father.
Accelerated Reader
Quiz: 187760
Level: 5.8
Points: 14.0

The AR level is nearly 6th grade, and that's a good spot for it.  There are allusions to sex, but mild ones, and Scarlett does grapple with her feelings as she becomes increasingly attracted to a character she doesn't know if she should trust.  The book is definitely middle school friendly.